Bike or Die!
1.3
The only Trial Bike racing game for the PalmOS plarform
Last update
20 Mar. 2006
Licence
Free to try |

$14.95
OS Support
Mobile
Downloads
Total: 847 | Last week: 2
Ranking
#183 in Games
Publisher
Szymon Ulatowski
Bike or Die! Publisher's Description
See the game in action! (2.6 MB)
How to upgrade
:
When installed in the main memory - Just install the new prc file, don't delete the previous version.
When installed on the card - Delete the previous version from the card and install the new prc file
Changes since 1.3a
Fixed compatibility problem with LifeDrive and Tungsten T|X
Changes since 1.3
Fixed compatibility problems with Treo 600/650, Tungsten T|5, Zire 31
"Disable other keys" works again
Sampled sound volume respects the system preferences
Other minor bugs fixed
Changes since 1.2f
Enhanced sound (OS5 only)

MP3 playback (Tapwave Zodiac only)

Optimized for ARM processors (OS5 only)
Full screen mode (most meaningful on 480x320 display)
Particle effects (dirt and gore)
Configurable "map" key
Configurable "pause" key
Automatic pause on start (option)
Closes the internet connection immediately after uploading (option)
Vibration (Tapwave Zodiac only)
Better "Recorded Games" window:

Can display the level names
Sorted by levels or datestamps
Can display "orphaned" recordings (without the matching levelpack)
Delete all recordings (in a given category) with a single tap

Delete levelpack (in the levelpack selector)
Progress bar while loading big levels
Loading big levels is usually faster (OS5 only)
Changes since 1.2b
The level map is displayed after entering a new level
Zire 31 support
Both IR and Bluetooth beaming are now supported
Up/Down in T3 Landscape mode work again
Hall of fame indicator in the Levelpack Selector (you can see which levelpacks are supported on the Internet Hall of Fame)
Bug fixed: some custom levels (from "Bike or Design") could crash the game
Changes since 1.1
Supports the Treo 600 Left/Right/Select keys
Beam levelpacks from the levelpack selector
Option to drop network connection on exit (useful when sharing one connector for network and hotsync)
Bug fixed: Was not compatible with some nonstandard launchers
Bug fixed: No auto off while replaying the game
Bug fixed: Level result databases are now marked for backup
Bug fixed: Problem with long levelpack names (the level results were not stored)
Bug fixed: Beamed recordings and levelpacks were not stored on the receiving device
Bug fixed: Possible fatal error after beating a high score when the recording options are set to "Ask"
Numerous minor bugs fixes and improvements
Changes since 1.0
Bike color selector (Options/Display)
Supports the additional Zodiac buttons
Bug fixed: Problems while submitting scores from the palm
Bug fixed: Up/Down not restarting the game in Tungsten T3 landscape mode
Bug fixed: Tungsten T3 auto off during the game
Bug fixed: Tungsten C application buttons not trapped
Features:
physics-based bike simulation
enhanced sound (OS5 only)
25 big levels (different environments: hills, rocks, snow, caves, etc)
over 800 third party levels available
smooth and fast animation
record and replay your best games
on-line Hall of Fame with Time Trial and Freestyle Competitions
compatible with most palm devices
Create your own levels!
. See the
"Bike or Design" product page on Handango.com
for more details.
On the Hall of Fame site you can compare your results and riding skills: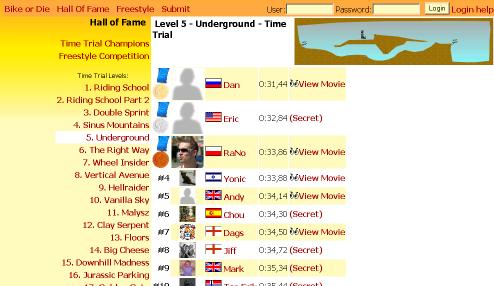 Some high resolution examples:
Hires+Landscape!
Of course it also works on older, black&white devices: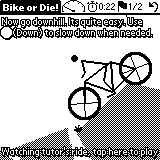 Look for Similar Items by Category
Feedback